Bill Seddon Scholarship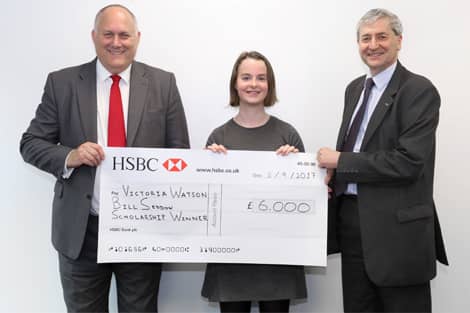 Supporting the next generation of Christian thinkers on ethical investment
A new academic scholarship was established last year by the Central Finance Board of the Methodist Church (CFB) to find and support the next generation of Christian thinkers in the world of ethical investment.
The "Bill Seddon Scholarship" was founded to honour the work of past CFB Chief Executive Officer, Bill Seddon. Bill retired from the CFB in 2017 after thirty two years of service and will be remembered for his lasting legacy of bringing together faith groups and corporate management to address critical ethical investment issues.
Applications were open to young Methodists, undertaking undergraduate study in finance and economics subjects, who were asked to write an essay offering a fresh outlook on the challenges the CFB faces when investing in-line with the ethical stance of the Methodist Church.
Essays were received on "Investment outcomes balanced against ethical consequences - where should the line be drawn when investing the assets of the Methodist Church?", and in August 2017 the scholarship was awarded to Victoria Watson of Woodhouse Grove School, Leeds (Methodist Independent Schools Trust).
After her first year of study at the University of Oxford, reading Philosophy, Politics and Economics, we caught up with her to ask her a few questions about her experiences and whether her study has opened up any more thoughts on the topic of ethical investment.
One year on - Interview with Bill Seddon Scholar, Victoria Watson
CFB: How have you settled in to your first year of study?
Victoria: I've hugely enjoyed my first year at university; it's been a wonderful and rewarding experience.
CFB: How has the scholarship helped you so far (financially or otherwise)?
Victoria: Winning the scholarship first of all gave me confidence because I realised that my ideas and writing could flourish beyond a school environment. It has also enabled me to undertake an internship in China this summer, which I would have otherwise been unable to afford, as well as providing the funds to complete an additional course in French at the Oxford University Language Centre.
CFB: What topics have been covered in your course, and what would be of interest to the CFB and the Methodist Church in particular?
Victoria: I have covered a range of subjects: in Economics, both microeconomics and macroeconomics, in Politics, political philosophy and the practice of politics, and in Philosophy, moral philosophy, general philosophy and logic.
CFB: We've read that you covered 'Moral philosophy'. What did that cover and was any of that relevant to the CFB?
Victoria: Moral Philosophy was an interesting module which covered the role of ethics and moral principles, particularly focusing on Mill's Utilitarianism. Several of the problems I tackled were very relevant to the work of the CFB, such as considering what makes an action 'right'. The application of this to ethical investment is a particularly interesting problem.
CFB: Reviewing what you've learnt so far at Oxford, is there anything that you would now change in your essay, and why?
Victoria: I think I would take a slightly different approach to the problem, by considering moral theories which I am now familiar with, but the conclusion I came to is one I still agree with.
CFB: What does year 2 hold for you and what are you looking forward to the most?
Victoria: I am looking forward to exploring my studies without the imminent pressure of examinations, and continuing to get involved in lots of different societies. I am currently working on the committee of a student refugee charity, which is something I am keen to get more involved with. I am also considering my future beyond university.
CFB: Thanks for catching up with us Victoria. We wish you the very best for the year ahead.