Bill Seddon Scholarship - 2019 Update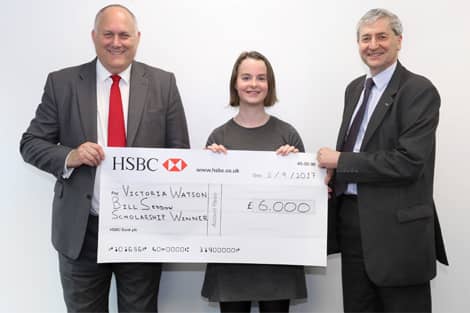 Two years on - Interview with Bill Seddon Scholar, Victoria Watson
After her second year of study at the University of Oxford, reading Philosophy, Politics and Economics, we caught up with Victoria Watson, the Bill Seddon Scholar, to ask her a few questions about her experiences and whether her study has opened up any more thoughts on the topic of ethical investment.
CFB: How did you find your second year of study compared to last year? What were the main differences?
Victoria: I've really enjoyed my second year. I think it helped a lot that I now have an understanding of how university works. I'd settled in academically and socially, and was therefore more comfortable in all aspects of my life there. I did find that the academic work stepped up quite a bit in difficulty. Since the start of second year, I have now studied six out of eight of my finals modules, so had a lot of work to get through! Overall, though, I found that the grounding I had from first year has really helped.
CFB: Is there anything you studied that you felt had an application to the work of the Central Finance Board?
Victoria: This year, I chose to take a module in Ethics, which has been really interesting, and somewhat related to the work the Central Finance Board does. I'm also starting a module in Philosophy of Religion.
CFB: You mentioned that the scholarship had proved useful last year, assisting you to undertake an Internship in China.  Has it been helpful this year?
Victoria: Absolutely! This year, I was able to go to New Zealand on a partially funded research project, which was looking into inclusivity in higher education. I will also be able to use the scholarship to extend my residence period at university this year in order to make use of the resources in Oxford whilst I am revising for my finals, which will be really useful.
CFB: What challenges lie ahead in year 3 and what are you most looking forward to?
Victoria: I am somewhat apprehensive about my final exams. My degree works on an entirely linear basis, so 100% of my final grade will be dependent on eight exams I will take in a two-week period next June. Because I will also lose most of my contact time after this term, I'm going to need to be very good at managing the large amount of time that I will have well.
I'm mostly looking forwards to be able to go into a lot of depth on things I have previously studied. In short terms, there isn't often a lot of time to follow your interests, and the large amount of time I have for revision means I'll be able to do this.
CFB: Have you given thought to what you will do post Oxford University … do you have any plans in place?
Victoria: I'm currently not entirely sure of what direction I will be taking. I'm in the process of applying for a few jobs, mostly in the civil service and public sector consulting, but am also considering staying in education, and doing a Masters degree in Social Policy. I'll have to see what the future holds!
Supporting the next generation of Christian thinkers on ethical investment
In 2017 by the Central Finance Board of the Methodist Church (CFB) established new academic scholarship to find and support the next generation of Christian thinkers in the world of ethical investment. The "Bill Seddon Scholarship" was founded to honour the work of past CFB Chief Executive Officer, Bill Seddon. Bill retired from the CFB in 2017 after thirty two years of service and will be remembered for his lasting legacy of bringing together faith groups and corporate management to address critical ethical investment issues.
Applications were open to young Methodists, undertaking undergraduate study in finance and economics subjects, who were asked to write an essay offering a fresh outlook on the challenges the CFB faces when investing in-line with the ethical stance of the Methodist Church.