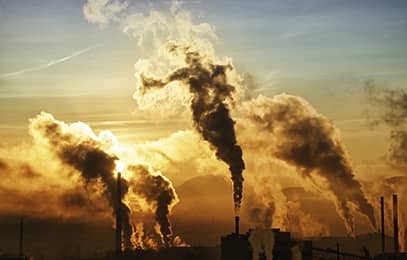 Responding to the Climate Emergency
Evidence continues to mount that the Earth is warming and yet greenhouse gas emissions continue to rise. The scale of the effort required to reduce carbon emissions is vast, yet while some steps have been taken they are nowhere near sufficient to meet the challenge.
The Intergovernmental Panel on Climate Change (IPCC) estimates that mean surface temperature is now 1°C above pre-industrial levels. At the current rate, global warming is likely to reach 1.5°C between 2030 and 2052. Unless drastic action is taken, it is likely to exceed 3°C. Even at increases of 1.5°C or 2°C, the changes to weather patterns and sea levels will be substantial and in some cases irreversible.
The CFB has long been concerned about global warming. Our first policy was produced in 2009 alongside the publication of Hope in God's Future, a Methodist report which became a statement of the Methodist Conference. It commits us to working for lower carbon emissions across our portfolios. We also have a policy on climate change and power generation, which commits us to assessing carbon intensity and avoiding exposure to coal-fired power stations. Our third policy looks at the ethical implications of different fuel types: we commit to avoiding significant exposure to coal and tar sands production, and avoid investing in companies wholly focused on finding new carbon assets.
We continue to monitor the environmental performance of fossil fuel companies against the Paris Agreement to limit global warming to "well below 2°C". Companies have been assessed under five categories with up to 25 different metrics. This work has led to the exclusion from investment on ethical grounds of all oil and gas companies.
There is little doubt that fossil fuel use needs to fall significantly. Energy suppliers, distributors, and companies and consumers need to shift demand to sustainable energy sources and deploy significant energy efficiency measures. The flip side of reduced fossil fuel demand is lower production of fossil fuels. Both supply and demand sides need to align with a lower carbon world.
Here we bring together our policies and information about our work helping to tackle global warming while aiming to deliver long term, ethical, and sustainable returns.
Paris Agreement
The CFB endorses the Paris Agreement as a significant step toward reducing green-house gas emissions, limiting global warming to well below 2 degrees Celsius, and adapting to the present and future negative effects of the climate emergency. The CFB considers investee companies' alignment to the Paris Agreement and engages with investee companies to evaluate and encourage adherence to the agreement.
Task Force on Climate-Related Disclosures
The CFB recognises the climate emergency presents opportunity for investors. However, current financial disclosures lack the transparency and appropriate metrics to help investors determine a company's outlook as the environment, consumer behaviour, regulations and technology evolve. The Task Force on Climate-Related Financial Disclosures (TCFD) seeks to bring stability and transparency to the way companies disclose their climate-related exposure to enable investors to make more informed decisions. The CFB welcomes the recommendations of the TCFD and encourages investee companies to adopt the TCFD's core elements of recommended climate-related financial disclosures.
The climate emergency and the oil and gas sector
The Central Finance Board of the Methodist Church has sold holdings in its funds in all oil and gas companies on climate emergency grounds. We have also excluded a further 11 companies from any future investment. Read more →
Climate change Policy Statements
and Position Papers
Position papers
Policy statements